Our History
1903
First Police Chief was Benjamin Comley in 1903
2 Watchmen were deemed sufficient protection back in 1903 when the City of Ventnor City was incorporated. They worked 12 hour shifts, one working the day shift and the other the night.
1910 - 1913
There is some conflicting information provided in the history books regarding 1910 and 1913. Old hand written information puts the transition from Chief Comley to Chief Frings at January 15, 1910 while an old press article states it was 1913.
According to the hand written information and the press article, dated 1956, Harry Frings was born in Germany in 1865 and served 3 years in the German Army. He came to the United States in 1888 and became a naturalized citizen in 1898. He came to Ventnor in 1906 and became a summer Patrolman and then became a regular Patrolman on March 15, 1908.
In 1913, the force took on a more organized aspect as the City Council passed an ordinance creating the first "real" Police Department. Harry Frings was appointed the Acting Chief of Police and the entire department, including Frings, consisted of 5 men. Uniforms for the Police Department were first ordered at that time.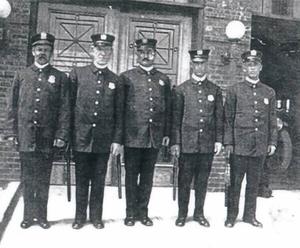 The above picture's original date is either 1910 or 1913. Chief Frings is the first person on the left.
1926
In 1926 a new traffic light was installed at Dorset and Ventnor Aves, dubbed the "Silent Policeman".
1934
On April 1, 1934, the Ventnor City Police Department was the first Police organization in Southern New Jersey to install two-way ultra-high frequency radio communication in its patrol cars.
1936
Below is a picture of the Ventnor City Police Department in 1936.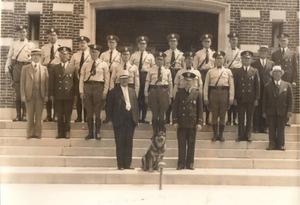 The two gentlemen in the front row are Mayor Sweigart (left) and Chief Mower (right). The K9 in the picture was named Fang.
1942
The below pictures show the department in 1942 along with their Motorcycle Patrol Units.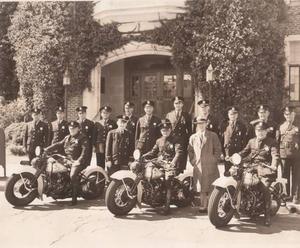 The two gentlemen standing between the motorcycles are Chief Mower (left) and Mayor Hodson (right).
1942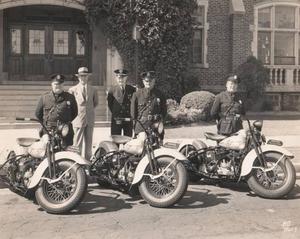 After 1942, there is not much information that has been obtained in the history of this department. There are large gaps in "News" and "Firsts". Below are more current points of interest.
1970's K9 Photo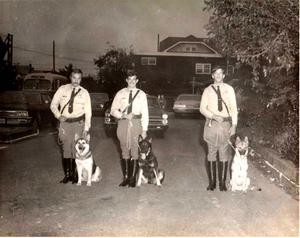 1990
Six Class I Special Police Officers were hired to patrol the Ventnor City Boardwalk.
1995
Ventnor Police Department receives grants for Community Policing Bicycle Patrols. Initially there were three Officers assigned to this patrol. This was not the first time the Ventnor City Police Department had bicycle patrols. Back in the early 1920's, beat pounding Patrol Officers were given bicycles for a quicker means of transportation.
1997
Police Officers get to wear Commendation Awards on their Uniforms. Although awards had been issued in the past, Officers were not allowed to display them on their uniforms. The Police Benevolent Association President along with then Chief Gerald Schaffer, began a committee to review all previous commendations given to Officers along with all future commendations.
1999
The Ventnor City Police Department received grant money to place laptop computers in each Patrol Car. The laptops ran a Police oriented software that enabled the Officers in the field to run vehicle plates, driver's licenses and wanted people and receive the information on their inquiries within three to five seconds. Ventnor joined in a regional consortium of 14 Police agencies in Atlantic, Cape May and Ocean Counties.
2003
The Police Department received a new 800 MHz radio system, replacing their aging UHF radio system. This system started out being for the Police Department but quickly became a Citywide project with every department benefiting from it.
2004
The Police Department once again was looking to upgrade its Phone System, which in turn became evident that the entire City can benefit from such an upgrade. In April 2004 a new digital NEC phone system was placed online. This new system enables each department and desk to have voice mail, auto-attendant and multi-line capability. Not only did this new system add features, but it saves the City several hundred dollars a month in phone charges.