General Information
Hours
Hours of Operation
24 / 7 / 365
D.A.R.E.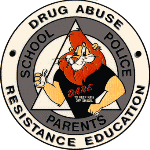 Drug Abuse Resistance Education
D.A.R.E. is a collaborative effort between the Police Department, the School, Parents and Community Leaders. D.A.R.E. works because it surrounds children with support and encouragement from all sides. D.A.R.E teaches kids how to recognize and resist the direct and subtle pressures that influence them to experiment with alcohol, tobacco, marijuana and other dangerous drugs.
Specially trained Officers teach the D.A.R.E. program. Each Officer undergoes 80 hours of special training in areas such as child development, teaching techniques and communication skills. Student participation in the D.A.R.E program may be incorporated as an integral part of the school's curriculum in health, science, social studies, language arts or other subjects
The D.A.R.E. program consists of 16 weekly visits with each visit including a lesson plan in which the Officer uses a basic guide to teach 5th graders a theme. The lesson plan lasts approximately 45 minutes and includes a question and answer session taken from the D.A.R.E. box. The D.A.R.E. box is an anonymous way for students to ask the instructor questions he/she may be too embarrassed to ask in front of the class. The D.A.R.E. box has also assisted both instructors and teachers in identifying problems students have in and out of school. During the visits, students also enjoy role-playing, which is the heart of the D.A.R.E. program. This allows students to act out self-made skits in which they play both the good student and the bad student. The responses students make to these scenarios is based upon the eight ways to say "No". These eight ways are taught to students so that they have options to cover any situation that may arise in which they feel is out of their control.
These eight ways include:
Just say "No thank you"
Giving a reason or an excuse
Repeated refusal or keep saying "No" (broken record)
Walking away
Changing the subject
Avoid the situation
Cold shoulder
Strength in numbers
With these responses in our youth's verbal arsenal, they
can overcome just about any situation they feel pressured into doing.
Upon completion of the 16-week program, the students take part in a D.A.R.E. graduation in which the students are awarded with t-shirts and graduation certificates as well as other D.A.R.E. themed items.
The D.A.R.E. program within the City of Ventnor has been going strong for over 10 years and includes both Public and Parochial Schools. It is estimated that over 1,500 Ventnor Students have received the D.A.R.E. program and that number will only continue to climb.